By
SADIM News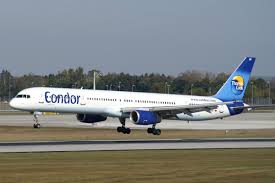 Mombasa Wednesday 22nd June 2016: Kenya Airports Authority in conjunction with the Kenya Tourism Board this morning welcomed the inaugural Condor Airlines flight from Munich to Mombasa's Moi International Airport. The weekly flight operated on a Boeing 767-300 will make it possible for passengers to have a direct flight between Kenya's coastal city of Mombasa and Munich in Germany.
The inaugural flight which landed at 0529Hrs arrived with 100 disembarking passengers. The  Ag. Airport Manager, Engineer Danson Mwangi said "We are excited that Condor has added this new non-stop service to Moi International Airport. This increased air service provides our passengers with another destination for European travel, and opens up the coastal region for German tourists. "
"This is the beginning of a bright future as the tourism sector once again begins to blossom.  Mombasa is a competitive tourist destination, and Moi International Airport provides an excellent entry point for the coastal cities of Kenya and the East African Region." he added.
In December 2015 the Ministry of Tourism in liaison with Kenya Airport Authority initiated the Charter Incentive Program and subsidy which has waived landing fees for charters with 80% of the passengers terminating at Mombasa and Malindi for the next 2 years. The program is aimed at recovering lost business from tourist charter aircrafts that used to terminate at Moi International and Malindi airports. The government is also waiving visa fees for children under the age of 16 years to encourage family travel to Kenya.
Condor Airlines is already operating another direct flight from Frankfurt to Moi International Airport twice weekly every Monday and Friday, terminating in Zanzibar.
Source: Kenya Airports Authority
Get someone else to read by sharing: